Kanye West has been suspended from twitter (again) following a series of hate and antisemitic comments shared on his page Thursday (Dec. 1).
Before he was Thanos-snapped out of the problematic social app, the 45-year-old Nazi sympathizer went on a pro-Nazi, pro-hitler tirade. He also advocated for the abolition of pornography, stating it "destroyed my family."
In another tweet, the rapper voiced his opinion in support of Balenciaga amid mounting backlash over its alleged sexual exploitation of children.
"I stand by Balenciaga and denounce all witch hunts and I cancel cancel culture Jesus is King Ending trafficking doesn't start or end with a fashion campaign for Christ Sake," Ye tweeted. "Never turn our backs Demna and the Balenciaga family for life Cancel cancel culture Jesus please heal."
In his final act, he revealed he caught NBA star Chris Paul in bed with his now ex-wife Kim Kardashian.
"Let's break one last window before we get outa here I caught this guy with Kim Good night," Ye tweeted along with a photo of Chris Paul.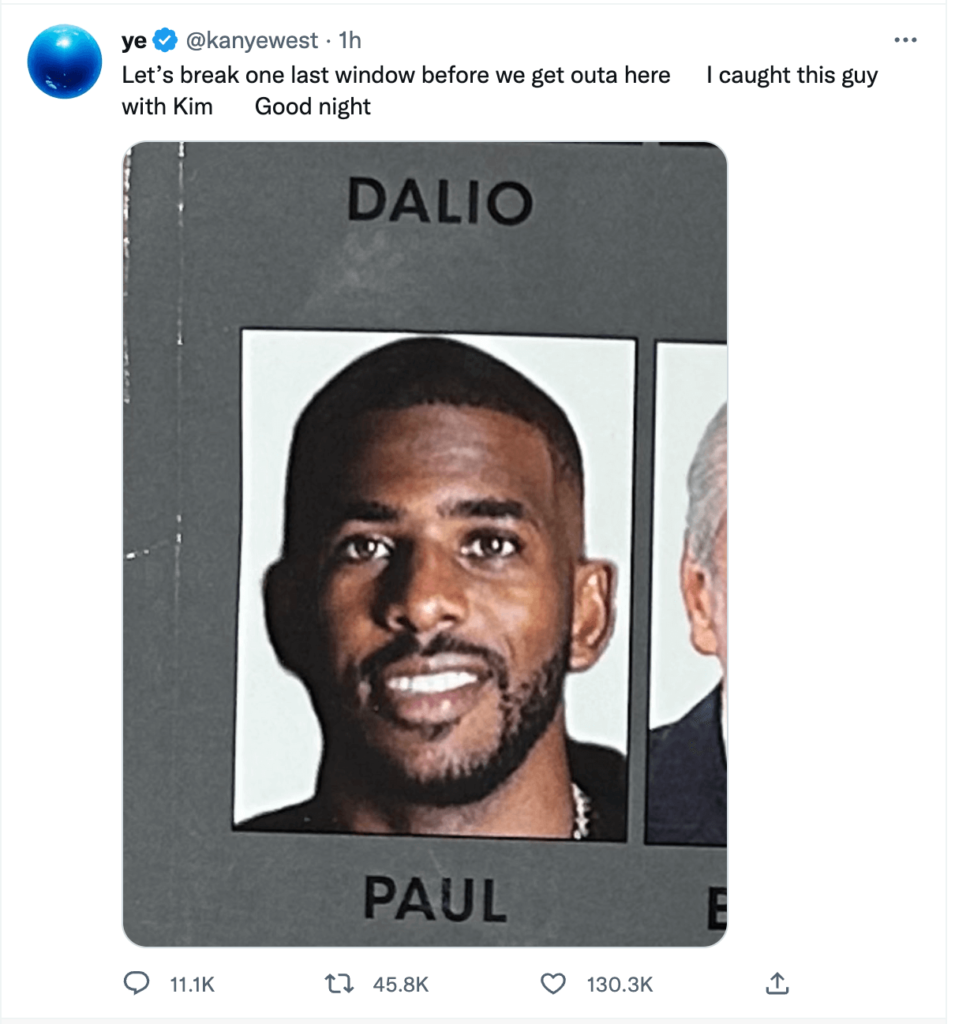 There is another male name Dalio with half his face cut out in the image, but fans are convinced Ye was referring to the Phoenix Sun's point guard as the Kardashian family have an affinity for Black men.
It didn't take long before Chris Paul became a trending topic on Twitter, with many users using Gif and short clips to make light of the situation.
>
Keep scrolling to see how Twitter reacted to Ye's claims about Chris Paul and Kim Kardashian.
Neither Kim Kardashian nor Chris Paul responded to West's allegations.
A few hours earlier, the G.O.O.D. Music founder professed his love for Hitler and the Nazis during a conversation with disgraced conspiracy theorist Alex Jones on Infowars.
"I am done with the classifications. Every human being has something of value that they brought to the table – especially Hitler," Ye said.
West took to Twitter after the interview to write: "I love the first amendment! Long live Ye! I pray to Jesus that Elon is for real…"