Over the weekend, Kanye West used his Instagram page to call out Adidas for attempting to cheat him out of his contract. The 45-year old Yeezy mogul in a series of posts blasted executives at the company for making big decisions behind his back, and trying to squeeze him out of deals. He also accused the powerhouse sports brand of selling knock-off versions of his Yeezy designs.
"The fact adi felt they could color my shoes and name them without my approval is really wild," Kanye West wrote on Sunday (Sept. 5). "But I promise everyone adidas is not as wild as me. I really really care about building something that changes the world and something I can leave to my kids. They tried to buy me out for 1 billion dollars My royalties next year are 500 million dollars alone."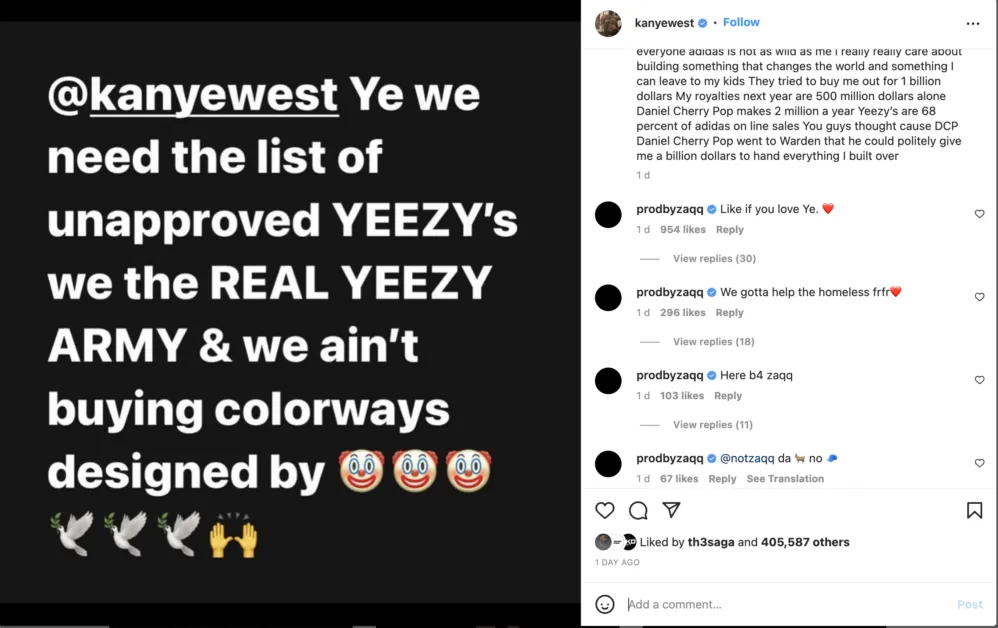 He went on to fire shots at the company's senior Vice President/General Manager Daniel Cherry III,who he says makes $2 million a year, while "Yeezy's are 68 percent of adidas on line sales."
"You guys thought cause DCP Daniel Cherry Pop went to Warden that he could politely give me a billion dollars to hand everything I built over," he wrote.
The rapper's social media outburst has genrerated support from some of his friends in the industry including Swizz Beatz and Diddy, with both condemning Adidas publicly.
"I usually mind my business but this is DEAD WRONG! If we let them do this to @kanyewest it will happen to us also! This man created this groundbreaking innovation and it should be respected as a creative ! YE is only asking for his work to be respected and not stolen that's not crazy to me !! We not buying these !!!!!!!!!!!! @adidas you're supposed to be original do the correct thing please" wrote Swizz in support of Kanye.
Diddy also joined the boycott in solidarity with Ye. The Bad Boys founder shared a text exchange he had with Kanye, where he politely asked the Donda rapper to share him "something I could post in support of you." In the caption of the post, Diddy vowed never to wear Adidas shoes until they made things right with Ye.
"Since the era of Run-DMC, @Adidas has always used Hip Hop to build its brand and make billions off of our culture," Diddy wrote in a lengthy Instagram caption. "BUT WE ARE MORE THAN JUST CONSUMERS NOW, WE'RE THE OWNERS. @KanyeWest and @Yeezy are the reason Adidas is relevant to culture. WE KNOW OUR VALUE! I'm done wearing Adidas products until they make this right!! We have to support each other!! Everybody repost this please!!"
>
Since then, the likes of T.I., Timbaland and Irv Gotti have all come out to publicly support Ye West in his fight against Adidas.
"This WHACK AF," said T.I. on Instagram. "I stand with Ye!!! Right is Right …. dis ain't it."
Music executive, Irv Gotti added: "I'm also in full support of my brother @kanyewest the man has made @adidas Billions. We never thought any sneaker company could compete with Jordan's. And Ye did with Yeezy's. For them to do anything he don't like is CRAZY!!! We all with you YE!!!! Love Brother."
On monday night (September 5) West announced he had reached a compromise with Adidas, saying: "I COULD HEAR THE JOY IN MY TEAMS VOICES TODAY," he wrote in all caps. "ADIDAS DON'T WANT NO MORE SMOKE. THE MOVIE CREDIT'S ARE ROLLING. THIS WAR WASN'T ABOUT MONEY.
He continued "IT WAS ABOUT CONTROL OF OUR FAMILIES. OF OUR BUSINESSES. OF OUR STORY. OF OUR VOICE. I GAVE THEM THE OPPORTUNITY TO SETTLE THIS QUIETLY. NOW IT'S TIME FOR GAP :)"