Update: Lil Tay's family confirms in a statement to TMZ that the viral social media personality and her brother are alive. In the statement shared on Thursday (August 10), Tay expressed that the past 24 hours has been a traumatic experience for her and claimed that her Instagram account was compromised.
"I want to make it clear that my brother and I are safe and alive, but I'm completely heartbroken, and struggling to even find the right words to say," Lil Tay said in the alleged statement. "It's been a very traumatizing 24 hours. All day yesterday, I was bombarded with endless heartbreaking and tearful phone calls from loved ones all while trying to sort out this mess."
She also stated that her legal name is not Claire Hope, and is Tay Tian. "My Instagram account was compromised by a 3rd party and used to spread jarring misinformation and rumors regarding me, to the point that even my name was wrong. My legal name is Tay Tian, not "Claire Hope"."
In the original Instagram post that has since been deleted, a statement read: "It is with a heavy heart that we share the devastating news of our beloved Claire's sudden and tragic passing. We have no words to express the unbearable loss and indescribable pain. This outcome was entirely unexpected, and has left us all in shock. Her brother's passing adds an even more unimaginable depth to our grief."

Her statement comes hours after fans started speculating that her death statement might've been a hoax after her former manager released a statement saying he can't confirm the report to be true or false.
Original Post: Lil Tay, the viral sensation known for flaunting wealth on social media, reportedly passed away on August 7. An Instagram post on her inactive 3.5 million-followers account announced her "sudden" death, along with her brother's. The statement didn't provide further details but mentioned ongoing investigations into their deaths.
However, skepticism emerged as the Vancouver and Los Angeles Police Departments denied knowledge of the investigation. "We haven't gotten any reports of either death here," said the Vancouver police department. "As of now, we are not aware and are not investigating."
Furthermore, TMZ retracted their article regarding her alleged passing, and the Instagram post that initially announced her "sudden" demise has also been taken down.
The New York Post reports Lil Tay's father declined to confirm the news, leaving doubts about the authenticity of her death.
"I'm not able to give you any comment right now. I'm sorry — I can't," said Tay's father Chris Hope per the post. 
When asked whether someone else could confirm his daughter's death, he cryptically responded, "Um, no, not that that I'm aware of.
"Sorry, I can't really comment or give you any help — I'm just going to let you go," he added before hanging up.
The confusion intensified when a note reportedly from her brother questioned the legitimacy of the announcement. 
"Me and Tay are not dead. We don't got access to the account. Our parents wants us gone off the internet but we will not go away," the statement read. 
The statement also alleged that their "parents took everything and they abused Tay, hard."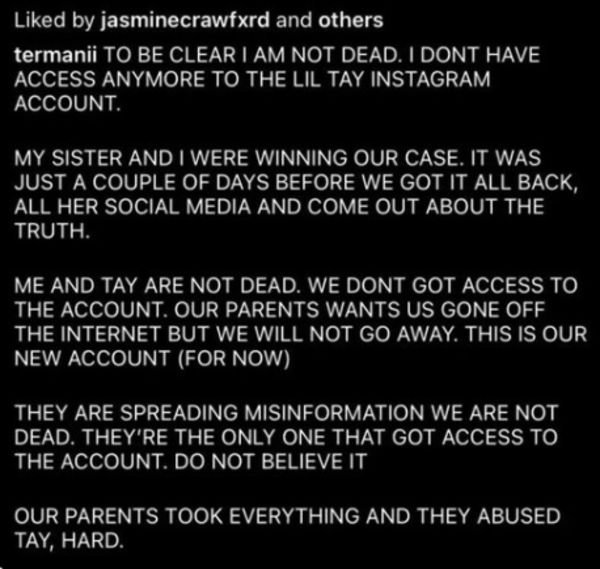 It was publicly known that Tay's parents: Chris Hope and Angela Tian – had been involved in a nasty custody battle over her. She reportedly endured years of abuse from her absentee father and was 'fighting for her life, future and freedom' according to a GoFundMe page set up by her brother in 2021.
He alleged that Chris had stolen millions of dollars from his sister, took control of her career, forced her into silence, and was now trying to gain full custody over her.
Chris denied the allegations to Hollywood Life, calling them all 'lies' and claiming that he was simply trying to protect her.
"When my daughter's social media began to go viral this year, I disagreed with most of the social media activity,' he said at the time. "I took legal steps to stop things which I felt were dangerous to her physical and mental health and to her future. 
"I do not think a 10-year-old girl should be put in those situations and made to drop out of school so that she can make money for other people. Everyone else involved in this situation is motivated by money and the possibility of making money off of my daughter. I am not fighting about money/I am fighting for my daughter – for her happiness and her future."
Since the Instagram announcement was posted, Henry Tsang, an ex-manager of the 14-year-old social media star released a statement casting slight doubt on her apparent passing.
"I have been in communication with individuals who have an intimate understanding of the family's situation," Tsang said to The Daily Beast.
"Given the complexities of the current circumstances, I am at a point where I cannot definitively confirm or dismiss the legitimacy of the statement issued by the family."
An anonymous person who claimed they also were a former manager of Tay additionally wondered why the statement about her death was not co-signed by anyone from her family.
"One thing I would question is who posted that statement and why isn't it signed by anyone from the family," the insider, who apparently was not in touch with the influencer for a few years, told the Sun.
"Why is it not signed, 'This is Tay's mom,' or 'This is the dad of Lil Tay,' or from an official representative? Why is there no attachment?" the supposed ex-manager asked.
"To me, that is a very telltale sign. It doesn't make sense. Even when you have passings, there's a group of people that come together to make the statement, usually the family, and we don't see that here," they added to the Sun, saying that they "just have so many questions."
I send my condolences and I'm shocked by the news. But I'm curious as to who the statement has been released by and [why it hasn't been signed by anyone.]," they said.
Lil Tay, whose real name is Claire Hope, rose to fame as a social media personality/YouTuber in 2017 when her channel started posting videos of her flexing stacks of cash and luxury items. At the young age of nine, Tay dropped skits and rap songs with vulgar language leaving some of her followers to question her parenting.
In early 2018, the young star and her family came under fierce scrutiny after a clip of her brother seemingly instructing her to 'be more ignorant' in her videos went viral.
Many started to wonder if her mom and brother were taking advantage of her and forcing her to do things she was not comfortable with for online fame. However, while speaking to Good Morning America at the time, she insisted, "No one is forcing me to do this. It's not true that [my family] wants to make money off of me."
Information from the New York Post and the Daily Mail contributed to this report.