Pusha T and his brother, No Malice hit the stage together as Clipse for the first time in a decade at Pharrell's Something In The Water Festival in Washington D.C. this past weekend.
The two last performed together in 2010, shortly after the release of their final album "Til The Casket Drops" in 2009.
"You guys, for the first time in so long," Pharrell said after bringing the brothers to the stage for "Mr. Me Too" during his Pharrell & Phriends segment, which also included performances from N.O.R.E. and T.I.
Pusha T noted, it's been "10 years" since they last hit the stage together. "We got both Pusha and Malice up here right now," Pharrell added, before asking the crowd if they were "ready to turn it all the way up."
From there, they jumped into a performance of Birdman's "What Happened To That Boy," followed by "Cot Damn," and concluding with "Grindin."
Pusha T, who's irked by the mispronunciation of French fashion house Lanvin on the "It's Almost Dry" cut "Dreamin of the Past" says Willaims' team reached out to him slightly over a week before the festival to find out if his brother would be interested in a Clipse reunion. His brother agreed, and Push confirmed the unofficial reunion with a post on his Instagram page shared a day before the festival.
"ABSOLUTELY NOTHING TO DISCUSS," King Push wrote. "SITW WEEKEND FINALE, JUNE 19, CLIPSE, AGAIN DON'T HIT MY PHONE."
Prior to their Something In The Water performance, the brothers reconnected on Japanese streetwear icon Nigo's "I Know Nigo!" compilation album and the climax of It's Almost Dry, "I Pray For You."
Pharrell Williams signed Clipse to Arista Records in 2001, as the first artists on his recently-established Star Trak imprint. The duo released their debut album, Lord Willin', in 2002; it debuted at number 4 on the Billboard 200 and was certified gold by the RIAA 2 months later.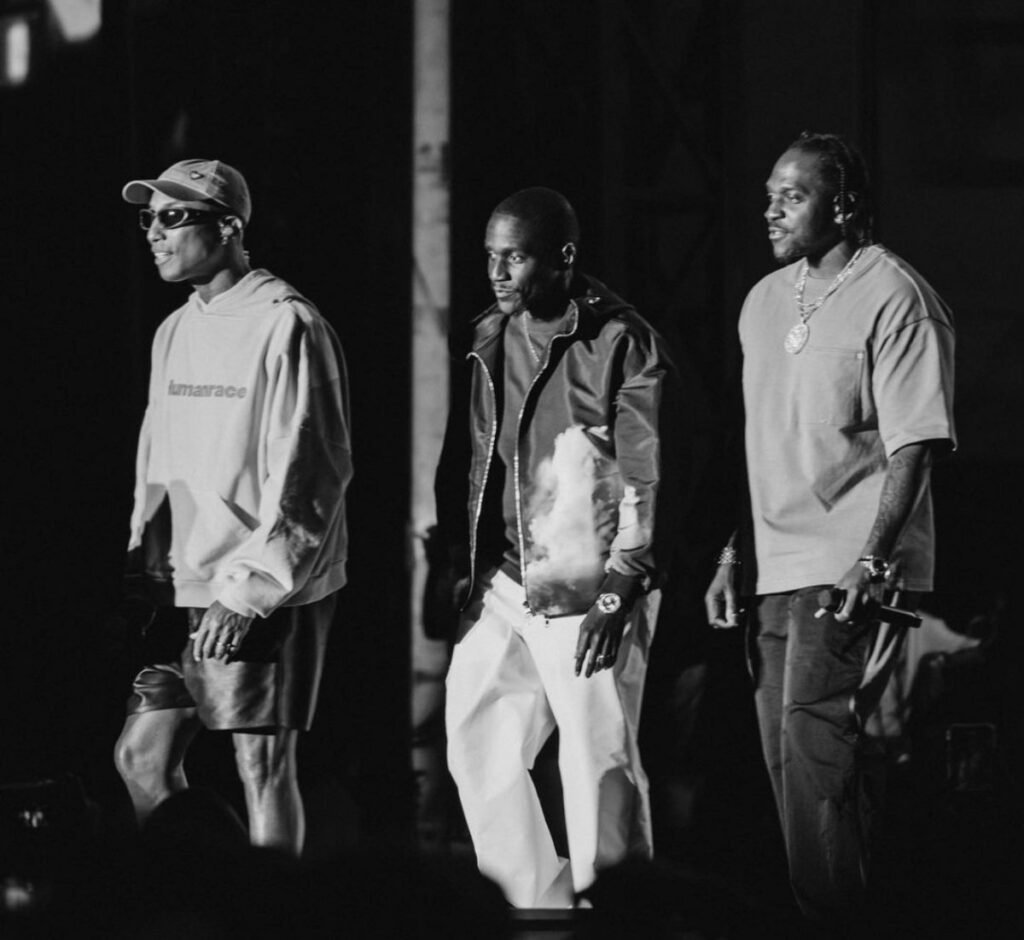 They released two other albums: "Hell Hath No Fury" in 2006 and "Till The Casket Drops" in 2009.
Pharrell's Something In The Water Festival was originally started in his native Virginia Beach back in 2019, but was later moved to D.C. following the "Happy" singer's disapproval with the response from city officials after police shot and killed his cousin Donovon Lynch in 2021.
"I just don't think the powers that be were respectful of what Pharrell brought to Virginia Beach, so it called for a relocation," Pusha T told Washington Post. "D.C. has always been near and dear to Pharrell and I's hearts."
This year's festival also included performances from Tyler, The Creator, Usher, Ashanti, Ja Rule, Thundercat, Tierra Whack, Denzel Curry, EARTHGANG, JID, Lil Baby, Roddy Ricch, and so many more.
Watch the full Clipse set below.