Earlier this month Jay-Z's longtime engineer Young Guru declared the Blueprint rapper "the greatest of all time" in a since deleted tweet. Seemingly in agreement, Roc Nation executive Lenny "Kodak Lens" Santiago shared a screenshot of Guru's tweet on his Instagram stories with a caption that reads "I been in the studio with Jay his whole career. He probably just recited one of the best verses ever. Ever."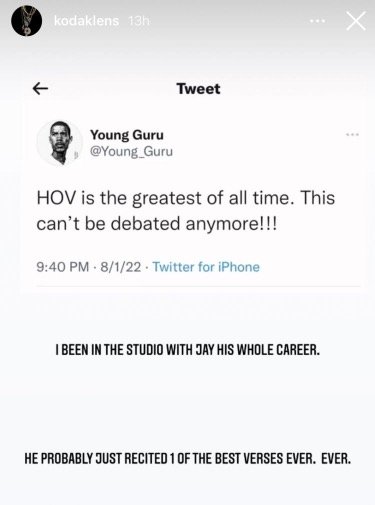 The verse referenced in the above screenshot can be found on DJ Khaled's 13th album God Did, which is out now. Prior to the album's arrival, Khaled confirmed to Speedy Morman that Jay-Z's verse on God Did is one of the rapper's best of his career.
"The rumors are true," he said. "A lot of rumors are not true, but these are true. I'm a Jay fan, you're a Jay fan? So everybody has their favorite verse of Jay. I'll let y'all decide that. I'm telling you, if there was a greatest hits of JAY-Z verses, it's on there. That I'll tell you, for a fact. The rumors are true, that's for a fact.
"Now, as far as you saying the very best one, I've heard people tell me that when they heard it. And these are people that… they know."
On Thursday night DJ Khaled's highly-anticipated album arrived with features from Eminem, Kanye West, Drake, Lil Durk, Lil Baby, 21 Savage, Rick Ross, Latto and many more. The album also featured Rick Ross, Lil Wayne, Jay-Z, John Legend and Fridayy on on its eponymous track. The 8-minute long track served as a confessional booth for all the rappers involved. Fridayy opens the song with a defiant hook about their underdog story. From there, Rick Ross used his verse to ask for forgiveness as he navigates the murky waters, "Lord forgive me, I'm a sinner," acknowledging his past life in the streets. Lil Wayne believes no one is beyond redemption, and raps about influencing a new generation of rappers, "Everybody replicate me, n-gga, face facts/Dreadlocks, face tats, I'm the apex/I made the culture, what up, twin? Never laid back."
Jay-Z's verse was undeniably one of the most anticipated verses of the entire album due to Khaled and Young Guru's comments. At 52, Jay has basically done it all in rap and should be less motivated, but he somehow manages to outfox whatever box they throw him in. During his conversation with Complex, Khaled revealed Hov started spitting bars the moment he heard the beat. "he invented that type of energy," said Khaled
Over the course of his 5-minute verse, Jay-Z references his infamous past as a drug dealer in Brooklyn, and asks for forgiveness because he basically wouldn't have made it without sin. "Please, Lord forgive me for what the stove did."
He went on to talk about overcoming systemic adversities to get to this point and how his status as hip hop's first billionaire have influenced others under his wings including Rihanna, Kanye West and LeBron James to be billionaires.
"Nobody touched the billi' until Hov did
How many billionaires can come from Hov crib? Huh/I count three, me, Ye and Rih
Bron's a Roc boy, so four, technically."
He acknowledges lots of rappers have landed themselves in jail for following his blueprint, and alludes to using his position to help in fighting systematic oppression.
"Lot of fallen soldiers on these roads of sin," he raps before adding "I got lawyers like shooters/Workin' pro bono for him as a favor 'cause I throw them Ms."
He concluded his verse from "the book of Hov" with a very important statement "Next time we have a discussion who the G.O.A.T., you donkeys know this."
Mere moments after the track was released, Jay-Z became a trending topic on Twitter, with many users reacting in agreement with Young Guru and DJ Khaled's previous proclamations about his verse.
"I'm afraid this might be my favourite Jay-Z verse from this day forth," wrote one user.
"The thing about Jay-Z is that this rap shit is easy for him. Light work. He's not writing anything. It's not a fair fight."
Listen to God Did below.